What exactly is
the Resource Transport Network?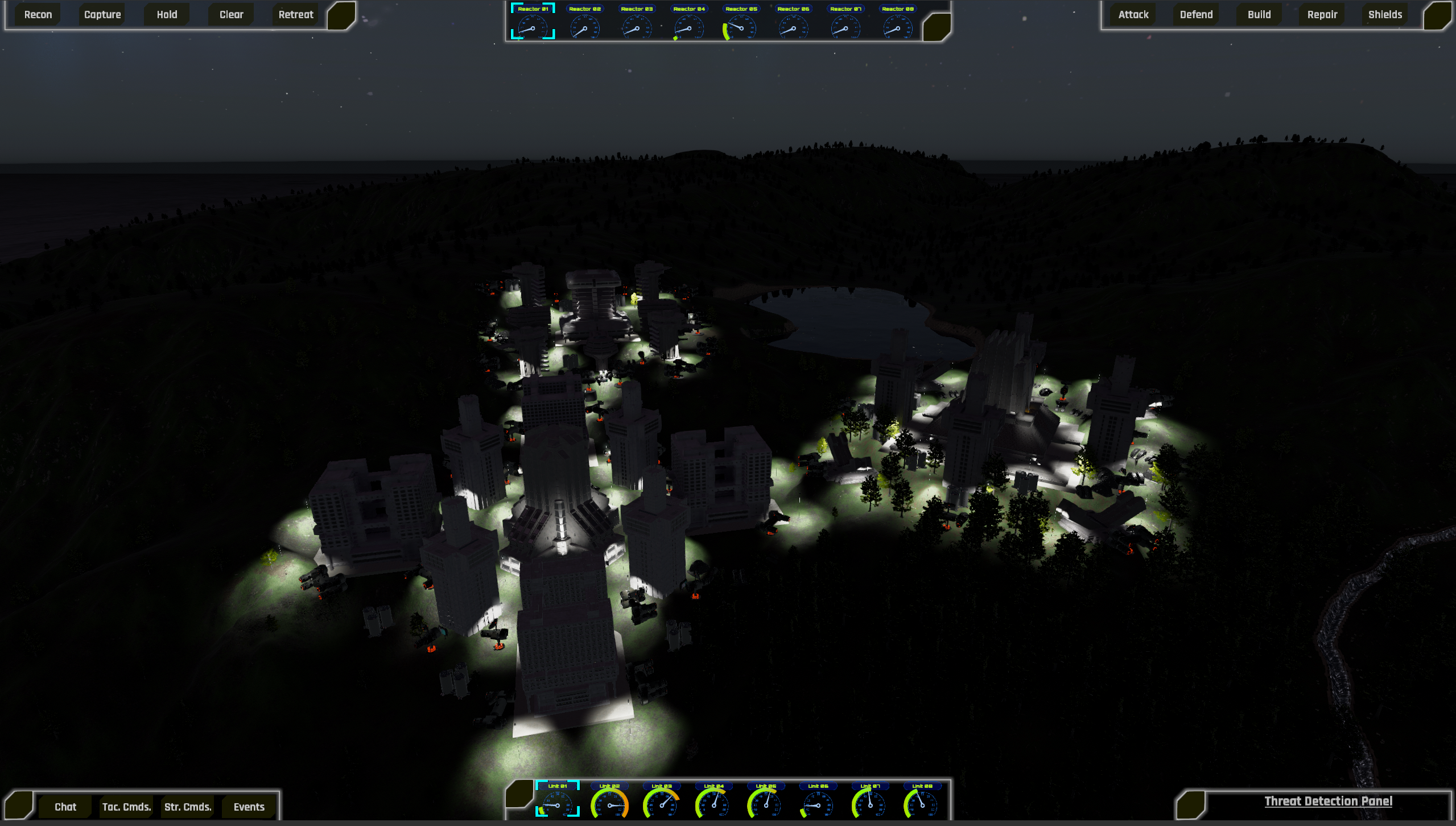 The Resource Transport Network is fundamental to the generation and transfer of energy, units, and communications between all Facilities and Outposts
The Resource Transport Network, or R.T.N., is arguably the single most critical piece of technology that is employed in any campaign. At its heart is a highly resilient mesh topology that is constructed from carbon nanotubes that provide reasonably secure, underground connectivity between all facilities and outposts that are built during a campaign. It handles secure communication between these units, in addition to all forms of energy distribution. This includes energy required for all operational needs, as well as the distribution of the matter streams associated with the transport of mobile units either being constructed or being moved between transporter outposts.
Every static unit is equipped with a specific number of RTN interfaces, allowing it to connect with the RTN mesh and provide additional routing capacity and resilience. Whilst the number of interfaces in a given unit cannot be increased, the bandwidth and range of its connections can, through research of the units effectiveness design principle.
The effective maximum range between two static units is the greater range of their respective RTN interfaces. The effective bandwidth of the connection is the lower rating of the respective nodes. For this reason, it is important to try and balance the capabilities of all static units as much as possible to avoid creating unintended bottlenecks and host spots.
If a static unit is destroyed, all upstream facilities and outposts that no longer have at least one path back to a command centre will no longer be able to receive orders, contribute to overall production capacity or be changed in any way. Any upstream stockpile facilities will be unable to unload their stored units and are high value targets for hostile takeover until such time as they can be reconnected to a command centre.
If a static unit has been converted to an opposing team, then in addition to the above, it will attempt to convert any other static unit that is still attached. In this instance, it pays to have static units equipped with a combat computer as it will detect the infiltration and immediately disconnect the interface to the offending unit.
For the above reasons, it is prudent to employ military facilities at strategic locations across your RTN. What they lack in active contributions when compared to rectors or production facilities, they make up for with ultra-hard connections and extreme defensive/offensive capability. They are exceptionally hard to kill or subvert and, with their higher-than-average interface count, they provide considerable resilience to the RTN.
As stated above, each interface has a finite bandwidth which must be shared between energy distribution to maintain operational readiness of downstream units and the transfer of matter streams for constructing or transporting mobile units. Should capacity become contended, a priority quality of service can be configured to allow control of the preference given to the two energy streams. The configuration is RTN wide and will affect all connected nodes when it is changed.
A given static unit will attempt to find its closest neighbour to fulfil any production or energy request. Preference is given to units closest to the source, with any surplus energy being routed to downstream nodes. If a unit is unable to completely fulfil its energy demands, it will search for more distant energy sources (reactors, wind farms or generators), to address the shortfall.
In the event it is unable to fully satisfy the demand, it can either partially or fully switch to internal power if it has been equipped with local power plants and fuel cells. Typically, these are configured to have enough capacity to support an operational load for a few minutes to ensure defences and weapons systems can remain online. One main line RTN energy has been restored, the fuel cells will automatically be replenished, subject to the availability of surplus power not being needed by downstream nodes.
RTN and internal power are also used to refuel and repair any garrisoned mobile units if the static unit has been equipped with refuelling pods.